Instagram slideshow is here! And guess what? This is awesome for you as a business owner. Whether you're selling a product or a service, you'll be able to use this Instagram feature to boost your business, and to benefit your customers.
At first glance it looks like another update which copies Facebook. But because Instagram is highly visual, this is a game changer for anyone who is torn between a 'pretty' Instagram feed, and a place to advertise sales and promotions. Want to know how to use Instagram's Slideshow Feature to boost your Business? Read on.
I've always said that social media is for relationship building and branding, not interruption selling like television ads. And now this new Instagram feature is going to be flippin' awesome to do both. Here's the thing: no one goes onto social media to be sold to. Instagram especially is a platform for inspiration and it's not fun to scroll through a feed and all of a sudden see a blaring ad. On the other hand, we know that 75% of Instagram users take some sort of action such as clicking through to a website after seeing a post. So what to do?
I share some tips and ideas for using the Instagram Slideshow feature that you can start using right away.
How to use Instagram's Slideshow Feature
The Slideshow feature is super easy to use:
Click on the little "+" sign at the bottom of your screen to open Instagram camera as usual.
Then click on the stack of squares as shown in the photo below.
The first time you do this, you'll see it says "select multiple", after that you'll just get the little stack of squares.
Next tap on the photos you'd like to include in your Instagram stack, in the order you want them to show up.

Note, you can add up to 10 photos or videos, or a mixture of both.
That's it! Super easy.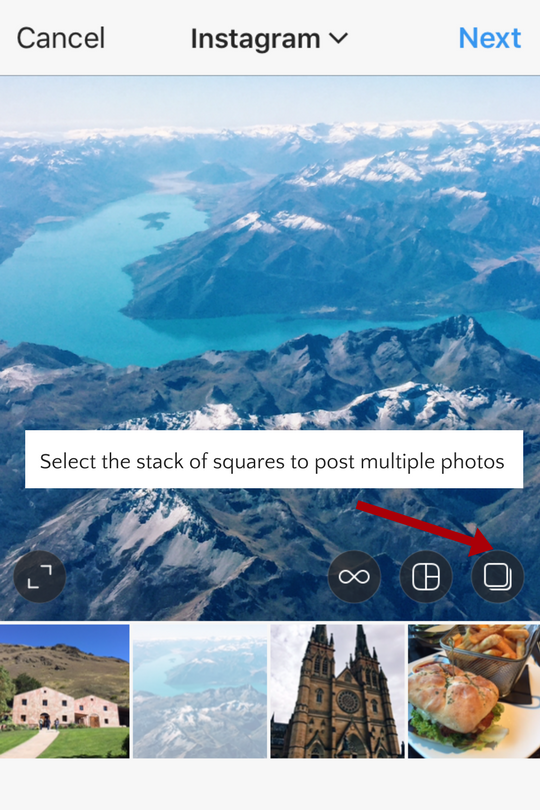 How to tell if an Instagram post has a Slideshow with multiple photos
Scrolling through your feed, if there's multiple photos, you'll see a row of dots under the photo. This tells you that you can swipe across to see more.
Looking through an Instagram profile, you'll also see a little square 'stack' at the top right of your photo. That let's you know which posts have multiple photos in one.
However we don't want to leave this to chance. Remember to let your followers know in the caption of your photo that they should swipe across for more content. While the little squares and dots are there to let people know there's more photos, your customers are very likely not to be used to this new feature. Even if they do, you still want to let them know in the caption what's up ahead to further tempt them to swipe across and see more.
How to boost your business with an Instagram Slideshow
We're just scratching the surface here as there's so many great ways to promote your business with this feature. Here's some ideas to get you started:
Post your best photo of your product at the front to suit your Instagram theme. Then add supporting photos to the slideshow to show off your products in a different view when people swipe through.
Post one photo of a category of products at the front, then add more products in a similar category to 'group' them.
Or how about adding a coupon? A pretty photo will stop people in their tracks as the main photo. Then swipe across and they get a coupon code to use on their next purchase of your product. No more glaring ads on your beautiful Instagram gallery. 
Announcing a new product? Tempt your followers with the first photo, then add some extra sneak peeks in the following photos of your slideshow.
What about service based businesses? You can have your usual photo at the front, then add quotes or graphics specific to your industry to support your message or to drive followers back to your website. Oh and if you're still struggling for photos, I have you covered here with photos for service based businesses.
Instagram Slideshow Tips:
If you are going to add coupons or announce a sale, remember to keep it tasteful. Just because a photo is hidden behind others, doesn't mean it shouldn't be branded and look attractive. You want everything to look seamless.
Remember, like any other social media feature, such as Instagram stories or Facebook Live, you want to ensure you provide your followers with value.
Grab people's attention but then give them a reason to stick around, and a reason to look out for your posts in the future. Whether it's more great photos, or additional information, or a competition or special promotion, there needs to be something in it for the viewer. Adding more content for content's sake will quickly teach your followers that there's no need to swipe across next time, and they should keep moving on.
Use the slideshow wisely, when you feel it's appropriate, and you will reap the benefits of a more engaged audience. And audience who will get to know you and your products better and one which is more likely to click through to your website.
Want more? I have some extra Instagram inspiration ready for you right now. You can grab it by filing in the form below.